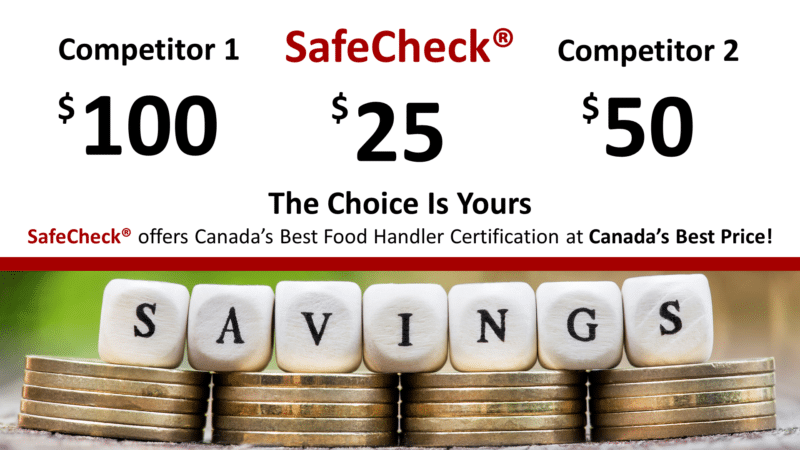 Online Food Handler Course. Do I Spend $100, $50 or $25 ?
Food safety education has changed in the past 5 years. Many Food Safety Certification providers offer both in class and online food handling certification courses. While some providers have adapted and leveraged the costs of technology to offer convenience and savings, others have been slow to adapt and even slower to offer savings. SafeCheck & Canadian Food Safety Group have always believed in offering the Absolute Best Value!  In early 2019 SafeCheck

lowered food handler training costs by nearly 50% to $24.98.

The Savings for All campaign is based on a EDLP or every day low price model. In March 2019 we were the first provider to offer a Pass Guarantee, we were the first to offer Unlimited Exam attempts, and we were the first to offer 100% mobility with anytime, any device exams.
So How Do You Choose the Right Course Provider?
Isn't It Strange That When A Seller Has A Much Higher Price They Tell The Customer Not To Consider Price?
The SafeCheck Challenge! Compare all our features, our service and overall value to any one of our competitors. (courseadvise.org) We are confident you will choose to save 50% or even 75% by using SafeCheck versus what our competitors who claim to be better and 'worth" the extra money. With full professional narration, courses available in multiple languages, exam available in 20 languages and Canada's Best Price the SafeCheck Advanced Food Safety Certification is your choice.
SafeCheck Advanced Food Safety Certification offers the best value! It is trusted by tens of thousands of everyday customers and hundreds of corporate, educational and not for profit organizations across Canada.
Check what our customers are saying about us here:

Client Comments.
The SafeCheck Advanced Food Safety certificate is valid for 5 years!
Valid across Canada

Valid for 5 years

Accepted by all health departments

Easy to use and easy to enroll 1 or 100 students

Fully interactive and professionally narrated with, end of modules quiz questions, games and videos

Practice exam questions

Course accessible 24/7, on tablets, smartphones, laptops & desktop computers

Exam is available 24/7, no need to schedule a time

Certificate issued immediately after passing the exam

Access to the SafeCheck library with extra resources, videos and printable posters

Thousands of post course reviews rate the SafeCheck Food Handler Course as great or excellent
Ask why the $50, $75 and $100 course providers are so expensive?
The SafeCheck Advanced Food Safety Course and Unlimited Exam bundle is $24.98 ………… Register Now and Save!