Canada's Leading Choice for Online Training
Canada's Best Price – Canada's Best Service
SafeCheck Training has been providing leading training and certification to Canadians for 20 years and has always committed to providing the best service at the best price. We understand that price is important, and you have a bottom line to look after. We also understand that you should never sacrifice quality for price. SafeCheck Training is committed to providing the highest quality training at the lowest price! When compared with to our competitors you can easily see the difference; we offer full time support, unlimited exam attempts, a fully functioning LMS with everything included… all at NO extra cost.
A Superior Learning Platform
Not all learning management systems are the same. While some competitors use basic level free learning management systems, here at SafeCheck we believe your team deserves the BEST experience. That is why we use a state-of-the-art learning management system which allows the highest level of functionality, all while being extremely user friendly.
Every corporate account comes with everything below and more at NO extra cost!
Your own branded dashboard and login screen

The ability to enroll your learners with one easy step

Add multiple learners at once through our import feature, or allow us to do it for you and save yourself the time

Track student progress in real time

Automatic email reminders for learners

Run comprehensive reports

Automated reporting

Manage and view certificates easily

Your purchased enrollment credits do NOT expire
Customized Training Solutions
Direct Integration to Your LMS

Train-the-Trainer

Custom Branded Learning Courses

Purchase Vouchers For Your Organization

Solutions For College Bookstore Sales
Students Love Us
With 20 years providing Canada with industry leading training and certification, our staff are experienced and professional when it comes to working with your team and your students. If you look at our testimonials you will see, we have the highest level of customer service satisfaction in the industry.
Real Support – Phone – Email – Live Chat – Video Conference
SafeCheck has always believed that exceptional customer service is a top priority. That is why we have multiple ways to get support. Our highly experienced staff are available to help you and your learners with all your support needs. You can reach us via email, live chat or by phone! Unlike our competitors we provide full support at NO extra cost. We also provide an on-boarding walk-through where an experienced staff member will walk you through using the entire LMS so you are ready to go right way! Read and Watch our testimonials to see what other great employers like yourself are saying about us.
"We at Freson Bros. appreciate the excellent customer service and online training support provided by the Canadian Food Safety Group since we partnered back in 2014. Our store operations and team members appreciate the convenience of completing the online certification training without leaving the comforts of their store location. Our administrators

are able to

 easily enroll and track the training progress of each team member using the dashboard and LMS. We couldn't be 

more happy

to sign on when they offered this service to us and have been very happy since."

 
" Here at Notre Dame High School we have been dealing with the Canadian Food Safety Group for about five years now. During that time, the people I have dealt with have always been first rate. They are quick to respond, very helpful and always a pleasure to deal with. Any issues have been resolved with total satisfaction. I highly recommend them! "
"Canadian Food Safety Group has been our Food Safe Provider for the last few years. Their Learning Management System has been a large time saver for both enrollment and tracking of both courses and individual progress. The support they provide is top notch; honest, professional and accurate. Having dealt with other vendors, it is a pleasure to use the SafeCheck Learning Management system through Canadian Food Safety Group."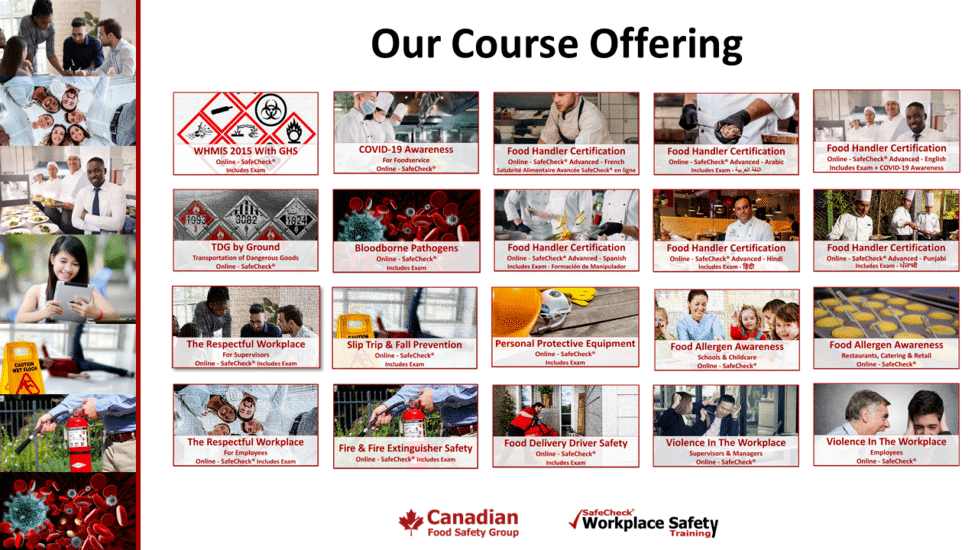 Bundle Courses – Save Time – Save Money
We already offer the lowest prices for individual enrollments and for group purchases. However, you can now save even more by bundling multiple courses together! In keeping with our commitment to saving you money, we allow you to tailor your course bundles for your learners to your exact needs, all while keeping the price as low as possible.